Setting up Clark Scholars for Success Through Mentorship and Community
Learn More About the Clark Scholars Program in 2021
Engineering Initiatives
The Foundation's Engineering Initiatives portfolio aims to increase access to and persistence through bachelor of engineering degree programs for students who are traditionally underrepresented in engineering education. Our 2021 investments will:
Help launch the National Institute for Student Success at Georgia State University to support colleges and universities in removing institutional barriers to equity and college completion through proven student-success systems; and
Support the Thurgood Marshall College Fund's The Pitch student competition, an opportunity for students from Historically Black Colleges and Universities to compete in cross-functional teams to present solutions to business problems.
These complement an existing portfolio which includes investments in the National Academy of Engineering's EngineerGirl program and the National Society of Black Engineers' coordination of the 50K Coalition, among others.
The Clark Scholars Program
The A. James Clark Scholars Program develops future engineering leaders. Chosen for their academic and leadership potential, Clark Scholars pursue a rigorous curriculum of engineering study, complete business classes, serve their communities, and learn about what it takes to be a leader in engineering fields.
As of fall 2021, the Foundation's signature scholarship program has been established at 11 of the nation's top engineering institutions, serving over 430 engineering students. At scale, the program will support 475 Clark Scholars each year, in perpetuity.
University leadership has shown impressive dedication to leveraging the Clark Scholars Program to serve students who are traditionally underrepresented in four-year engineering degree programs. During the 2021-2022 academic year, 46% of Scholars were underrepresented minorities in engineering education—as compared to 26% nationally1; 50% identified as women—as compared to 24% of undergraduate engineering students nationally;2 and 51% were eligible for Pell Grants as compared to 34%3 of undergraduate students nationally.
Participating Institutions
Duke University
George Washington University
Georgia Tech
Johns Hopkins University
Pennsylvania State University
Stevens Institute of Technology
Vanderbilt University
Virginia Tech
University of Maryland
University of Pennsylvania
University of Virginia
Sources
1Source: 2020 American Society for Engineering Education, Engineering by the Numbers
2Source: 2020 American Society for Engineering Education, Engineering by the Numbers
3Source: 2019-2020 provisional data collected by the U.S. Department of Education, National Center for Education Statistics, Integrated Postsecondary Education Data System (IPEDS)
Pictured above: The A. James Clark Scholars Program develops future engineering leaders.
For Zachary Williams, serving as the inaugural Clark Engineering Scholars Graduate Fellow at George Washington University (GW) was about strengthening community and providing mentorship in the midst of a pandemic that kept people from meeting in person.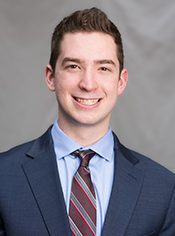 "I really strove to bring people into the program and show them that sense of family and community that I had when I was accepted as a Clark Scholar," Williams says.
Having been a Clark Scholar himself for three years, Williams says, "I was friends with all the Scholars behind me, so I had close relationships with all the seniors and juniors and even with the sophomores who were freshmen when I was a senior. I had been in their shoes, so I brought a fresh perspective to how I wanted to engage with them."
The GW Clark Scholars Program piloted the Clark Scholars Fellowship position starting in August 2020, with the goal of helping to manage the Clark Scholars community and connect current Clark Scholars with Clark Scholars alumni. The one-year fellowship is designed to be filled by a Clark Scholars Program graduate who remains enrolled at the university to complete a master's degree in engineering, and provides financial support through the Clark Scholars Program.
As he approached his May 2020 graduation with a B.S. degree in biomedical engineering, Williams was eager to pursue his master's degree at GW. He had already developed a good relationship with Professor Murray Snyder, the Clark Scholars Faculty Director at GW, who proposed creating the fellowship position. After a brief selection process, Williams accepted the position.
Building Community in an Online World
Snyder asked Williams to provide support for event planning and management, communicating with the Clark Scholars community, and monitoring their academic progress. Williams dove into his new responsibilities with enthusiasm.
Initially, he envisioned monthly social events like movie nights, bowling, and laser tag, "to get people out of the classroom and have fun." But the COVID-19 pandemic limited him to virtual events.
It was challenging, Williams acknowledges, to create more cohesive cohorts without being able to meet in person—especially for Scholars who were new to the program. But he did his best, in consultation with Snyder.
The first event Williams helped organize was the annual program "boot camp" just before the fall semester. Normally an in-person event, Williams assisted Snyder in planning several hours of virtual programming spread out over two evenings. The theme for 2020 was diversity, equity, and inclusion, so Williams brought in several GW Clark Scholars alumni from diverse backgrounds to talk about their experiences with racism, both in college and in the workforce, and engage the Scholars in a rich discussion.
To help the Scholars get to know each other better, Williams broke them into small groups. Together, they planned virtual activities like game nights or movie nights, as well as dinner conversations. For another fall event, Williams had the Scholars complete the Gallup CliftonStrengths survey, and he brought in a trainer to talk about the skills and strengths they identified, how to use them effectively, and how to work on teams of people with different skills and strengths.
Maintaining Relationships
Throughout the academic year, Williams held biweekly online chats with the Scholars cohorts, as well as one-on-one Zoom conversations, serving as both a resource and a peer mentor. Snyder said that Williams' mentorship helped several Scholars improve their academic performance.
"I liked being a mentor," Williams says. "I was very eager to do that, to be someone that people could go to for advice." He got overwhelmingly positive feedback from Scholars, adding that he's still in touch with several Scholars he mentored during the fellowship—something he deeply appreciates.
For Williams, who now works as a quality engineer at Stryker Endoscopy in San Jose, California, being a Clark Scholars Fellow was a rewarding experience on several fronts.
"I can't overstate the value of the financial aid," he says. "It was great to get this award and know that my academic work was respected. And because of the aid I received, I'm now working at my first job without a huge amount of student loan debt hanging over me. I feel very fortunate."
Experiencing "Life Outside Engineering"
Beyond that, he says, the Clark Scholars Program expanded his horizons—exposing him to leaders in fields outside engineering, helping him grow socially and professionally, and allowing him to work with people like Snyder, whom he calls "one of the best professors I've ever had." He credits Snyder with helping him develop public speaking skills, a major focus of the program when he was a Scholar.
One of his favorite events as a Clark Scholar, he says, was the annual GW School of Engineering Applied Science Hall of Fame banquet. Clark Scholars are the only students invited to the event, a formal dinner with GW engineering alumni.
There, Williams says, he chatted with distinguished alumni whom he never would have met otherwise. "Each year, I met new people and had amazing conversations," he says. "I talked with NASA scientists, CEOs of businesses, [and] cybersecurity experts."
In retrospect, he says, being in the Clark Scholars Program helped him develop into "someone who can build relationships, hold onto them, and nurture them." Because the Clark Foundation program exposed him to "life outside engineering," he has a broader view of his career opportunities.
"My job right now requires me to work across disciplines and consult with people in marketing, customer relations, and customer care post-market, making sure we're in compliance with the Food and Drug Administration requirements," he says. "I'm not always running a test or solving a problem; I'm also looking at procedures and documents and compliance."
Ultimately, he hopes to grow into more managerial roles while carrying on the Clark tradition of mentorship. "I would want to be a mentor to the people who work under me and help them grow to be the best engineers they can be and advance their careers. That's where the Clark Scholars Program has set me up to succeed."
Visit Grantee Site