The Maryland Promise Scholarship Program: Cultivating Tomorrow's Leaders
Learn More About our Commitments to the University of Maryland in 2021
The Foundation's landmark $219.5 million commitment to the University of Maryland in 2017 is the largest grant in the university's history, and among the largest to a public research institution in the 21st century. As of 2021, we have invested over $104 million of that total commitment in an array of endowed scholarship programs and professorships, capital projects, and other operational initiatives.
In the spirit of Mr. Clark's dedication to supporting education and student success, the investment has increased access and affordability, created new learning opportunities, and advanced research and innovation. During the 2020-2021 academic year, the investment's scholarship programs served over 230 total Clark Scholars, Clark Opportunity Transfer Scholars, Clark Doctoral Fellows, and Maryland Promise Scholars. At scale, 390 University of Maryland students will receive scholarship support each year, in perpetuity.
The investment has also enabled the University of Maryland to leverage significant new funding to multiply the investment's potential impact. By the end of 2021, the university had leveraged over $102 million in new matching funds, including:
$24 million in new pledges and commitments from over 8,000 unique donors to support the Maryland Promise Program. The endowed scholarship program is designed to cultivate the next generation of leaders and community change agents through programming focused on academic excellence, professional development, leadership development, and community engagement. Fifty-seven Maryland Promise Scholars are currently enrolled across 12 colleges and schools at the university.
$25 million in new support for the E.A. Fernandez IDEA Factory. Completed in 2021, the IDEA Factory is a 60,000 square foot facility housing new research and laboratory facilities, including a Robotics and Autonomy Laboratory, a Quantum Technology Center, and the Startup Shell, a student-run coworking space and incubator.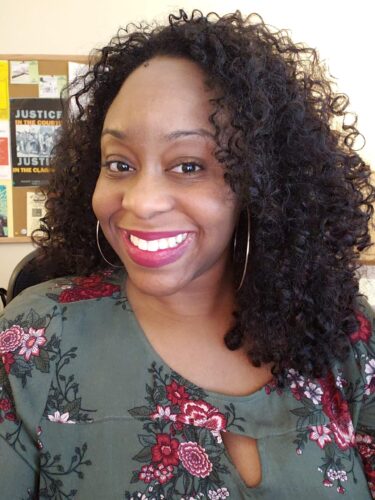 It's fortunate that Michelle Nkechi Udeli loves a challenge.
When Udeli's supervisor at the University of Maryland (UMD) approached her to lead the brand-new Maryland Promise Scholarship Program in the summer of 2019, Udeli knew it was her dream job. At the time, she was already working in the university's Office of Letters and Science as a retention program coordinator. Although she enjoyed the work, she yearned to do more.
She got her wish.
In a short time, the Maryland Promise Scholarship Program has become UMD's flagship scholarship program. It grew exponentially from a cohort of eight Scholars in fall 2019 to three cohorts of 57 Scholars by fall 2021. Udeli anticipates that the 2022-23 cohort will have about 70 new Scholars. This growth has been enabled by the Clark Challenge for the Maryland Promise, a campus-wide matching scholarship program with over 8,300 individual donors who have contributed to support the success of these Scholars to date.
The Clark Foundation established the Maryland Promise Scholarship Program to provide educational and financial opportunities to promising students from Maryland and the District of Columbia who are admitted to UMD. The program selects Scholars from a pool of thousands of admitted students, with the goals of helping them graduate with as little education debt as possible and of cultivating the next generation of leaders and change agents.
The program's focus on academic excellence, professional and leadership development, and community engagement is right up Udeli's alley. And she is thrilled to work with undergraduate students from day one through graduation.
"I am passionate about student success," says Udeli, who began directing the program part-time when it launched and will become its full-time director in fall 2022. "I want our Scholars to be successful and to build skill sets that they can use anywhere, not just here but in graduate school, the workforce, and beyond."
Creating Community During a Pandemic
Building a scholarship program from scratch would be challenging in normal times. But after the COVID-19 pandemic struck in early 2020, times became anything but normal. "Some people like to say we are laying the track as we are driving the train, but I like to say we are still forging the steel for the track while we are driving the train," Udeli jokes.
Amid all the vicissitudes of the pandemic, Udeli has made significant progress. She worked with the Maryland Leadership and Development (LEAD) program at UMD to develop leadership programming. In addition, she developed a four-year programming plan of events around the themes of identity, community, and professional development. These include a summer orientation day to ease the transition of Scholars into UMD; a fall welcome event for all Scholars; an interactive grand challenge-focused event with UMD President Darryll J. Pines at the University House; a winter leadership conclave for Scholars in their second and third years; and Clark Day in the spring, when Scholars have an opportunity to get to know Maryland Promise Program donors who established endowments, and leaders from the Clark Foundation.
It's a process, starting with confidence-building and storytelling for incoming Scholars, so that they become comfortable sharing their personal journeys with their peers.
"I bite the bullet and share my story first so that everyone in the program knows I started off on probation my very first semester, and I was in jeopardy of being kicked out of my dream school," Udeli says. "That helps take away the shame of needing help or asking for help. They feel a lot more comfortable reaching out or talking to one another for support, and they're not as nervous."
An "Intrusive" Support Approach
Udeli keeps in close contact with the Scholars through regular check-ins, office hours, and monthly community meetings. Her "intrusive advising approach" emphasizes purposeful relationship-building with students to ensure their academic motivation and success. Udeli has no problem being intrusive. "If a student does not respond to my text message within a day or two, I'm popping up at their door to do whatever I need to get hold of them, because I want them to know that they're supported," she says.
She keeps an eagle eye on academic performance as well. "Many of our students will kind of hide in the corner and not say anything about their grades," she notes. "But I'm already looking at all their grades, and if something looks a little funky, I say 'Come in, let's talk right now.'"
At the same time, Udeli is helping the Scholars build community. "We are a tight-knit family here," she says. "I want the students to feel connected, because I know how it feels not to be."
That has been tough during the pandemic, especially for the Year 2 cohort, which launched in the middle of lockdown. Those Scholars didn't get to meet each other in person until the fall 2021 welcome event at the Adele H. Stamp Student Union. But Udeli is hopeful that all the Scholars will soon be able to have more regular in-person interactions with each other and with UMD faculty, Clark Foundation staff, and donors.
Udeli is also trying to create a Scholars culture that embraces challenges and innovations. She constantly encourages Scholars to "step outside their comfort zones," which she calls "being squishy." It's become a tag phrase for the program. "I'll ask them, 'What are three squishies you've done since the last time we talked?'" she says. "I keep them on their toes."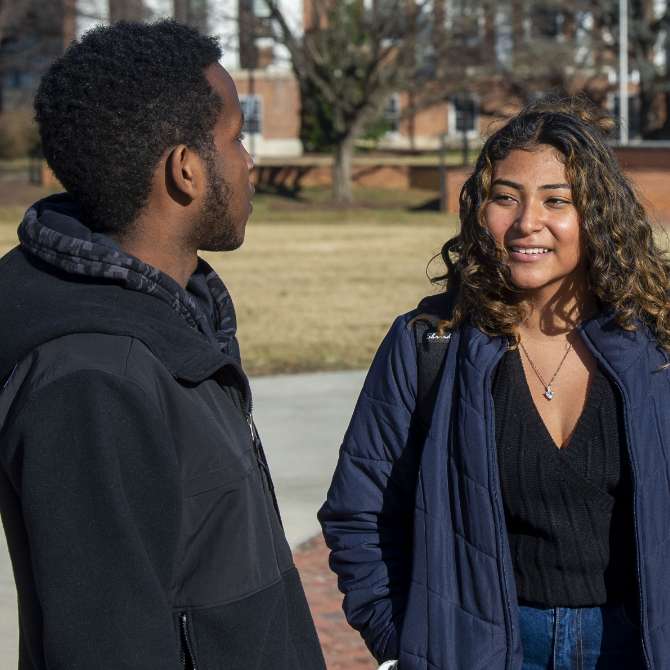 Building Confidence, Mining Potential
She sees signs that it's working. For example, at last fall's in-person Grand Challenges event, President Pines assigned the Scholars into breakout groups to tackle a global challenge and report back to the entire convening after about a half-hour. One young man, whom Udeli describes as "incredibly shy," volunteered to speak for his group—much to her surprise. When Udeli asked him about it later, he replied: "You tell us to be squishy, so I wanted to be squishy."
Another Scholar told her—to her delight—that after participating in President Pines' global challenge, he's now interested in studying abroad.
Udeli wants the Maryland Promise Scholarship Program to be a unique and transformative experience for students—one that helps them realize their potential to be national leaders, global powerhouses, and social change agents.
"I absolutely love the students," she says. "I don't want this to be just another program for students. I want us to have our own culture, our own mark on campus. I want people to know that if you're in Maryland Promise, those students are always doing something squishy, they're always doing something outside their comfort zone, their program is always going to be doing something different."
Visit Grantee Site