A. James (1927-2015) & Alice B. Clark
Mr. Clark was a builder.
Under his leadership, Clark Construction Group transformed the landscape of Washington, DC. But Mr. Clark did much more than build buildings. He built a culture of trust and integrity with his employees, clients and business partners. He built a loving family of three children and 10 grandchildren in partnership with his wife of 65 years, Alice. And he built opportunity for the hundreds of thousands of people who have benefited from his vision and generosity.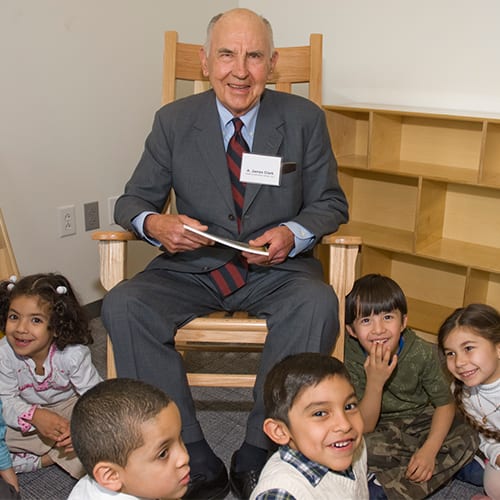 For the last 30 years, the Clark family has been building their Foundation one investment at a time. Committed to giving back to the communities where they live and work, the Clarks have quietly and generously supported community organizations, hospitals, schools, cultural institutions, and veterans groups to help those willing to work hard to achieve their greatest ambitions. This generosity has always extended beyond formal philanthropy to a genuine and personal kindness and compassion for those in need. Mr. Clark not only sat on the Board of Samaritan Inns, he bought Christmas presents for every resident there, finding great joy in the thank-you notes he received in return.
Before Mr. Clark passed away in March of 2015, he mandated that a large portion of his estate be transferred to the A. James & Alice B. Clark Foundation for his final and most cherished investment: an investment in people.