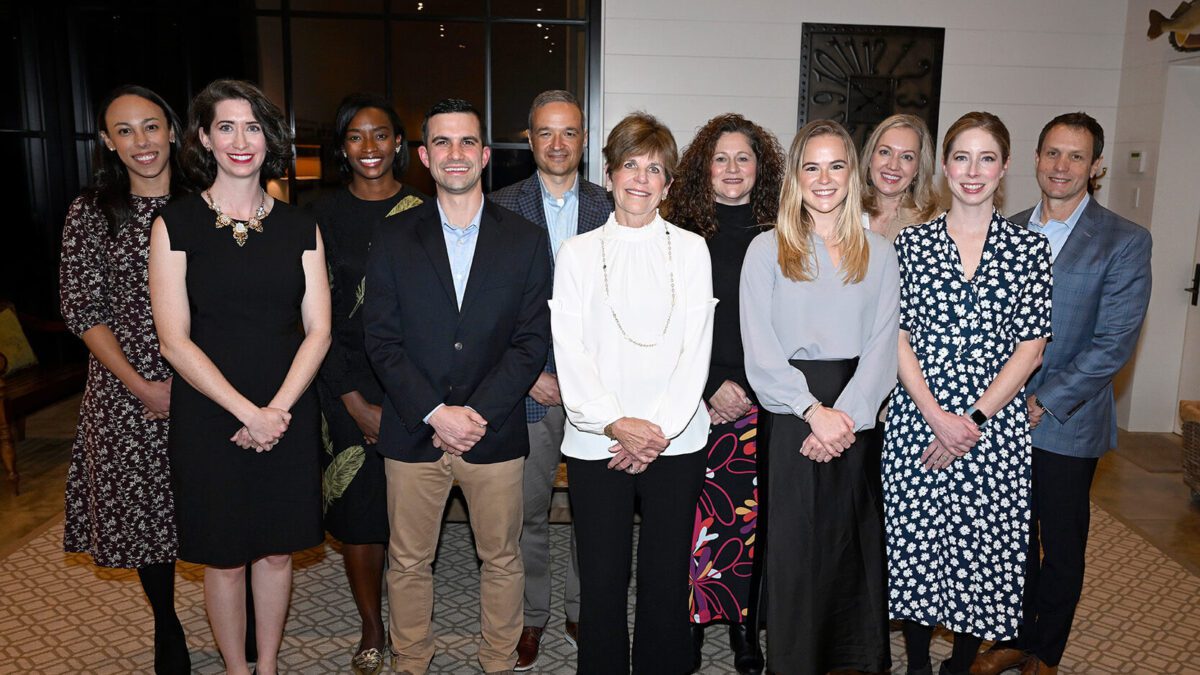 Leadership
Courtney Clark Pastrick

Board Chair

For almost 30 years, Courtney led her family's philanthropic giving as President of the A. James & Alice B. Clark Foundation. She now serves as Board Chair of the Clark Foundation, which partners with organizations to strengthen their ability to meet the needs of the individuals, families, and communities they serve.

In keeping with Mr. Clark's desire to use today's funding to address today's challenges, in 2016 the Foundation established a spend down strategy to disburse over $1 billion within a decade. The Foundation focuses its philanthropic investments in three strategic areas: educating future engineering leaders, improving the lives of veterans and their families, and providing members of the DC community the best opportunity to thrive.

During its remaining years, the A. James & Alice B. Clark Foundation continues its steadfast commitment to Mr. Clark's legacy, working to ensure that partners have the leadership, infrastructure, and financial strength to grow and support their communities today and in the future.

Courtney also serves as the Board Chair of Clark Enterprises, a private investment firm. Courtney holds a JD from the Catholic University of America and a bachelor's degree from Duke University.

Robert J. Flanagan

Director

Bob is Chief Executive Officer of Clark Enterprises, Inc. and Managing Director of CNF Investments. He also serves on the boards of Brown Advisory, Inc., Svelte Medical Systems, Vascular Therapies, Verax BioMedical and WP Carey, Inc. (NYSE:WPC). He is a trustee of the A. James & Alice B. Clark Foundation.

Bob is also a member of the Board of Advisors of Georgetown University's McDonough School of Business. He was formerly Chairman of the Board of Directors of Washington, D.C.'s Federal City Council, Martek Biosciences Corporation (NASDAQ: MATK) and Sagent Pharmaceuticals (NASDAQ: SGNT). Bob is a former Treasurer, Secretary and a member of the Board of Directors of the Baltimore Orioles.

Mr. Flanagan received a BS in Business Administration from Georgetown University, an MST from the American University School of Business and is a Certified Public Accountant licensed in Washington, DC.

Lawrence C. Nussdorf

Director (1946-2020)

Lawrence C. Nussdorf was Chairman & Chief Executive Officer of Clark Enterprises, a privately held company with extensive interests in real estate, private equity and traditional investments. He previously served as President, Chief Operating Officer and Chief Financial Officer of Clark. He was a trustee of the A. James & Alice B. Clark Foundation.

To learn more about his life and legacy, please see the Clark Enterprises, Inc. Statement on Passing of Chairman and CEO Lawrence C. Nussdorf and Greater Washington real estate giant Lawrence Nussdorf dies (Washington Business Journal).

Mr. Nussdorf served as Director of Leidos, Inc. (NYSE:LDOS) (formerly SAIC, Inc.). He was a member of the Executive Committee of the Anti-Defamation League (DC Chapter), a Trustee of WETA and the United Jewish Endowment Fund of Greater Washington, a member of the Board of Directors of DC Prep, and a founding member of the Advisory Board of the Penn Institute for Urban Research. He previously served on the Boards of Clark Construction Group, LLC; Pepco Holdings, Inc. (NYSE:POM); Capital Source, Inc. (NYSE:CSE); numerous DC-area nonprofits, and is a former Trustee of the University of Pennsylvania.

Mr. Nussdorf was a member of the District of Columbia Bar Association and is also a Certified Public Accountant (inactive). He received his BS in Economics from the Wharton School of the University of Pennsylvania, his JD from Rutgers School of Law, and an LLM (Tax) from Georgetown University Law Center. Mr. Nussdorf was the recipient of the Alumni Award of Merit from the University of Pennsylvania and the Outstanding Director Award from the National Association of Corporate Directors.
Staff
Joe Del Guercio

President and CEO

Joe Del Guercio is President and Chief Executive Officer of the A. James & Alice B. Clark Foundation. With nearly two decades of experience in venture capital and private equity, Joe brings an investor's sensibility to his role. He leads strategic direction for the Foundation and works closely with grantees, staff and the Board of Directors to ensure alignment between the Foundation's vision, grant-making and impact. But Joe's favorite part of the job is meeting the students whom the Foundation supports. As a son of Italian immigrants who understood that education and hard work would be the keys to their family's future success, Joe most enjoys meeting the students who exemplify that same grit and ambition.

Joe also serves as President and Chief Executive Officer of Clark Enterprises, the private investment firm founded in 1972 by A. James Clark. Joe lives in Washington, DC with his wife and two children. He holds an MBA from Harvard Business School and a Bachelor's degree from Boston College. Outside of the philanthropic work he leads with the Foundation, he serves on the Investment and Grants Committees for the U.S. Soccer Foundation, is a Trustee at Stevens Institute of Technology, serves on the board of the Sibley Hospital Foundation, and is actively involved with the National Youth Baseball Academy and Cycle for Survival.

Sarah Elbert

Director, Communications

Sarah joined the Foundation team in 2019. In her role, she leads the Foundation's design, planning and implementation of the legacy and sunset communications strategies.

Sarah brings over 17 years of experience in project management and operations, most recently in the realm of civic engagement. Prior to joining the Foundation, she served as Deputy Director of States at When We All Vote, a nonprofit group that helps eligible Americans register to vote.

Sarah has held roles in a variety of settings, from program management at the University of Texas at Austin to floral design at Wollam Gardens, a 12-acre cut-flower farm in Virginia. She also formerly worked at Clark Construction Group. Sarah holds a bachelor's degree from the University of Texas at Austin. She lives in northern California with her husband, two sons, and six chickens.

Natalie Grandison

Director, Engineering Initiatives

Natalie joined the Foundation as the Director of Engineering Initiatives in 2018. In this role, she manages the Foundation's signature academic program, the A. James Clark Scholars Program, which has now been established at 11 campuses nationwide. Natalie also manages the Foundation's multi-year investment of nearly $220 million to the University of Maryland.

Natalie previously served as the Director of External Relations in Mechanical Engineering at the University of Maryland College Park, where she focused on development, corporate and public relations, external outreach, and communications. Prior to that, Natalie worked in development at George Washington University, City Year Washington, DC, and New York University.

Natalie served on the board of Jubilee Jumpstart and as President for the Board of Directors for the Congressional Chorus, where she is also a singer and dancer. Natalie holds a Bachelor's Degree in Sociology and Business and a Master's in Public Administration from New York University. She currently lives in Washington, DC with her husband.
Danielle Hamberger

Director, DC Education Initiatives

Danielle joined the Foundation in 2010 and currently serves as its Director of DC Education Initiatives. In this capacity, she works with DC public and charter schools and educational organizations that prepare students for college and careers through academically rigorous and inspiring learning environments from elementary school through high school; as well as supporting DC students through the completion of their post-secondary education.

Having worked in the philanthropic sector for more than 15 years, Danielle brings a passion for and keen understanding of the Foundation grantees' work. She is inspired by the dedication of those who work tirelessly to make the DC region better for all who live here, and is honored to support them as a steward of the Clark family's giving. Before joining the Clark team, Danielle worked for the CityBridge Foundation and the Advisory Board Company.

Danielle has lived in the DC area for over 20 years. She currently serves on the Future Scholars Foundation board. Danielle holds a Bachelor's degree from Miami University.

Jennifer Houston

Director, Events and Legacy Investments

Jennifer Houston joined the Foundation in 2018 as Operations and Grants Manager. She was named Director of Events and Legacy Investments in 2023. Jennifer oversees the Foundation's internal and external events and supports the Foundation's legacy giving portfolio.

Prior to joining the Foundation, Jennifer served for 9 years as Vice President of Special Projects and Events at Innovative Philanthropy, a philanthropic consulting firm in New York City. She brings strong experience working with high-profile nonprofit clients in capacities that include grantmaking, foundation management, fundraising, and event planning.

Jennifer holds a Bachelor's degree in Political Science from the College of the Holy Cross. She lives in Bethesda, Maryland with her husband and daughter.

Chris Jones

Special Assistant to CEO

Chris has been with the Clark organization for 17 years and has held a variety of positions, having served as Office Manager, Special Assistant to the CEO, Executive Assistant to the Board Chair and overseeing IT services. Chris recently joined the Foundation team where she assists with administrative duties. Chris also spent two plus years at Clark Construction where she worked in their IT department as the IT Fulfillment Manager.

Chris is a lifetime resident of Maryland where she raised her two sons and spends much of her free time volunteering with various organizations and her church.

Andrew Knutson

Senior Grants & Finance Manager

As Senior Grants & Finance Manager, Andrew manages the Foundation's financial operations and grant administration processes while supporting the design and development of the Foundation's evaluation strategies.

Andrew has twelve years of experience in the nonprofit sector, previously working on programs that supported youth development, education and international diplomacy. Prior to joining the Foundation, he served as Grant Accountant at Meridian International Center, where he helped implement U.S. Department of State-sponsored professional exchange programs.

Andrew holds a bachelor's degree in History and Anthropology from University of Minnesota, Twin Cities. He received a master's degree in Public Management from University of Maryland, College Park, where he was also a TIAA Nonprofit Leadership Fellow with the Do Good Institute, supporting undergraduate students who take innovative approaches to addressing today's social issues.
Mike Monroe

Director, Veterans' Initiatives

Mike is a former Marine, a graduate of the US Naval Academy, and has served in a variety of operational roles within the intelligence community. After working in private industry, he transitioned to the non-profit field to serve veterans. In 2012 Mike joined Points of Light where he spearheaded the organization's efforts to serve veterans and their families. Most recently, Mike worked for Team Rubicon, a disaster response organization that utilizes veterans and first-responders as its volunteer base, where he oversaw the activities of the Eastern United States.

In his free time, Mike has participated in multiple ultra-endurance challenges and has raised over $650,000 for charity. Mike currently lives in Bethesda, Md. with his wife, their two children and dog.

Elle Wassertzug

Operations Associate

Elle joined the Foundation in 2021 as its Operations Analyst and was named Operations Associate in 2023. In this role, she works closely with the operations team to manage communications requests, assist in planning and managing internal and external events, and provide other project management support.

Elle has previously worked in fundraising development for Washington Nationals Philanthropies and the Institute for Justice. She also spent time working for Reclaim Childhood, a nonprofit in Amman, Jordan which creates athletic opportunities for refugee and local girls in Jordan.

She was born and raised in Maryland and received a Bachelor's degree in Marketing from the University of Maryland.

Elle currently resides in Arlington, Virginia and enjoys going on hikes with friends and her golden retriever, Riley.

Ashley Williams

Chief Operating Officer

Ashley provides oversight of the Foundation's operations, grant administration, performance measurement and communications. She led the implementation of the Foundation's grant management system and grantmaking processes, as well as the development of the Foundation's performance measurement and communications strategies.

Ashley has served in a variety of roles in the nonprofit and philanthropic sectors over the past twelve years concentrating on issues related to food insecurity, youth homelessness, and education access. Most recently, she worked in community relations at Wells Fargo where she focused on community engagement and corporate and foundation giving across the Mid-Atlantic.

Ashley holds a Bachelor's degree in History from Washington University in St. Louis, and Master's degrees in Business Administration and Public Policy from University of Maryland, College Park. She is a Grantmakers for Effective Organizations Change Leaders in Philanthropy Fellow, and a graduate of the Institute for Corporate Social Responsibility, an initiative of the Washington Regional Association of Grantmakers.