June 8, 2021
Bethesda, Maryland – The A. James & Alice B. Clark Foundation celebrates the 43 A. James Clark Scholars who graduated this year from George Washington University, Johns Hopkins University, University of Virginia, Vanderbilt University, and Virginia Tech. Through the A. James Clark Scholars Program, the Foundation partners with eleven universities to provide scholarships and unique educational opportunities to hundreds of exceptionally talented engineering students with financial need.
These 43 high-achieving Clark Scholars have completed a rigorous engineering and business course of study at their respective institutions that includes leadership and service, a reflection of the values of the program's namesake, Mr. A. James Clark, an engineer, businessman and philanthropist.
"It's an honor to see these graduating Clark Scholars carry on my father's legacy," said Courtney Clark Pastrick, Board Chair of the A. James & Alice B. Clark Foundation. "My dad always reflected on how his success began with an engineering scholarship. I know he would be proud to see these Scholars embark on their own careers as leaders in the engineering and business community."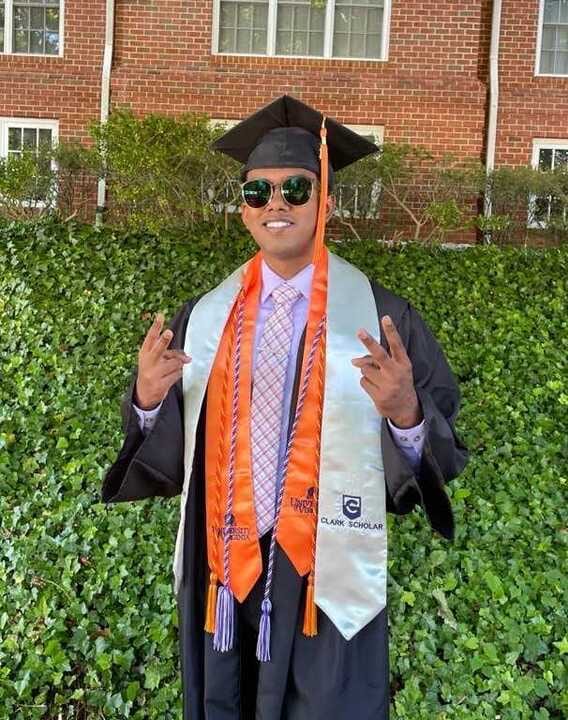 Each year, up to 120 Clark Scholars are selected based on financial need, academic accomplishment, engagement in their communities, interest in engineering and leadership skills.
Through the Foundation's $165 million investment in its signature academic program, the endowed scholarships will support 475 students annually in perpetuity at partner schools Duke University, George Washington University, Georgia Tech, Johns Hopkins University, Penn State, Stevens Institute of Technology, University of Maryland, University of Pennsylvania, University of Virginia, Vanderbilt, and Virginia Tech. In addition to financial support, the Clark Scholars Program offers a robust community that shepherds the academic and career success of students who are traditionally underrepresented in STEM fields – women, racial and ethnic minorities, and first-generation college students.
Learn more about the Clark Scholars here.
"Even before I had met anyone at Vanderbilt, the program had already made me feel as if I belonged on campus. Without the support of the program, both financial and through the resources it has provided, I am not sure where I would be on my path to graduate school. All I can hope for the future is that I can find yet another wonderful community like the one fostered by the Clark Scholars Program and Vanderbilt."

Yoanna Ivanova, Class of 2021
Clark Scholars Class of 2021
George Washington University
| | |
| --- | --- |
| Alexander Broaddus, Ashburn, VA | Joseph Signorelli, Toms River, NJ |
| Arianna Haven, Philadelphia, PA | Katherine Goldrick, Wantagh, NY |
| Arjun Vijay, Tampa, FL | Nicholas Jin, Princeton, NJ |
| Jacob Cannizzaro, Brattleboro, VT | Zachary Stecher, Ventnor, NJ |
John Hopkins University
| | |
| --- | --- |
| Cara Valencia, Clifton, NJ | Mary Joseph, Marlton, NJ |
| Drake Foreman, Stafford, VA | Michael Farid, Plano, TX |
| Ellen Wang, College Station, TX | Nikki Li, Dallas, TX |
| Eric Rong, Silver Spring, MD | Randy Kuang, West Lafayette, IN |
| Ishpreet Singh, Charlottesville, VA | Semira Kehnemouyi, Potomac, MD |
| Jessica Kasamoto, Diamond Bar, CA | Shreya Narayan, Cottage Grove, MN |
| Jordan Cohen, Miami Beach, FL | Taryn Wong, Kaneohe, HI |
| Wally Niu, Germantown, MD | |
University of Virginia
Joshua Sahaya Arul, Fairfax, VA
Vanderbilt University
| | |
| --- | --- |
| Adrianna Johnson, Ringgold, GA | Shyla Slater, New Orleans, LA |
| Irisa Myint, Champaign, IL | Stephanie Schroth, Olmsted Falls, OH |
| Joseph Holliday, Kansas City, MO | Tim O'Brien, Miami, FL |
| Reese Phillips, Murrieta, CA | Yoanna Ivanova, Buffalo Grove, IL |
Virginia Tech University
| | |
| --- | --- |
| Alberto Ceja III, Virginia Beach, VA | Keneil Gordon, Richmond, VA |
| Clemence Hidalgo, Philippines | Makenzi Moore, Midlothian, VA |
| Erica He, Virginia Beach, VA | Mia Taylor, Manassas, VA |
| Ezekiel Volk, Hampton, VA | Nefetari Heath, Roanoke, VA |
| Julio Villarroel, Falls Church, VA | Ricabelle Pagara, Herndon, VA |
About the Clark Scholars Program
As part of our dedication to the engineers of the future, the Foundation established the A. James Clark Scholars Program. The Clark Scholars Program has been implemented at eleven of the nation's top engineering institutions, financially supporting students with financial need who exhibit strong academic and leadership potential.
Students enrolled in the program pursue a rigorous curriculum of engineering study, take at least 1-2 business classes, and participate in community service. They also attend leadership seminars and events with leaders in the field.
Media Contact:
Sarah Elbert, Sarah.elbert@clarkfoundationdc.org, (301) 657-7176