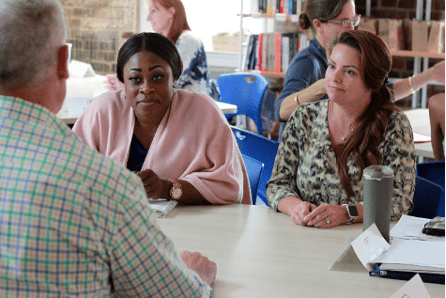 Washington, D.C.— Today, the A. James & Alice B. Clark Foundation announces a $1.8M investment in Dog Tag Inc. to support its January 2022 launch of a fellowship program in Chicago, Illinois.
Founded in 1987, the Clark Foundation has supported hundreds of nonprofit organizations in educating engineers, creating a D.C. community where people can thrive, and improving the lives of veterans and their families.
"We have seen what Dog Tag has accomplished here in DC, and its success is a testament to its dedication to service," said Joe Del Guercio, President and CEO of the A. James & Alice B. Clark Foundation. "We are honored to support their expansion to Chicago."
Founded in 2014 in Washington, DC, Dog Tag equips veterans, military spouses and caregivers with the education and tools needed to find renewed purpose and community outside of the military. Dog Tag is expanding its reach by launching its fellowship program in Chicago in January 2022.
"Dog Tag's unique model challenges our fellows to build resilience, grow their confidence, and redefine what success looks like," according to Meghan Ogilvie, Dog Tag CEO. "Through this transformational grant from the Clark Foundation, we have found a partner in our vision of addressing unmet needs of the military community and changing people, families, and their communities for the better."
Dog Tag Fellows in Chicago will earn a certificate of business acumen from Loyola University Chicago's Executive and Professional Education Center; bring their coursework to life by learning the ins and outs of running a successful business in Dog Tag's DC bakery operation; strengthen their community network; and enhance their wellbeing by committing time to introspection, storytelling, and personal growth. To date, 153 fellows from 13 cohorts have graduated from the program—a graduation rate of 93%.
Learn more about Dog Tag's model and work at https://www.dogtaginc.org/
Learn more about the A. James & Alice B. Clark Foundation and its Veterans Initiatives at https://clarkfoundationdc.org/our-investments/veterans-initiatives/.
About the A. James & Alice B. Clark Foundation
The A. James & Alice. B Clark Foundation partners with grantees who build practical, immediate and concrete connections between effort and opportunity, and focuses its investments in the following areas: educating engineers to solve society's toughest problems, improving the lives of veterans and their families, and providing members of the DC community the best opportunity to thrive.
Media Contact: Sarah Elbert, Sarah.elbert@clarkfoundationdc.org, (301) 657-7176