Engineering Scholarship and Leadership Program Expands to a Fourth University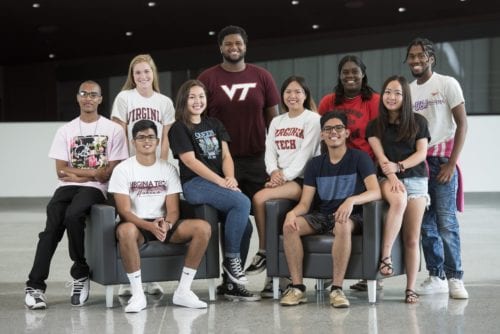 WASHINGTON (September 6, 2017) – The A. James & Alice B. Clark Foundation announced Virginia Tech will join three leading engineering schools as an A. James Clark Scholars campus partner this fall. The Clark Scholars Program is the Foundation's signature academic initiative, combining engineering, business, leadership and community service. The Clark Foundation is on track to commit more than $100 million to engineering education by 2018.
A. James Clark, founder of the construction company that built many of D.C.'s iconic buildings, never forgot that his business successes began with an engineering scholarship. This has guided the Clark family's longstanding investments in engineering education and reflects its commitment to ensure college remains accessible and affordable to high-potential students with financial need.
"My family is proud to invest in the next generation of engineers," said Courtney Clark Pastrick, Board Chair of the A. James & Alice B. Clark Foundation. "Over the next year, we plan to expand to 10 campuses and invest between $100 and $150 million in engineering education."
A. James Clark Scholars pursue rigorous engineering coursework, take at least two business classes, volunteer in community service activities and participate in enrichment seminars and events with leaders in the field. In addition to Virginia Tech, the Clark Foundation has made engineering investments at The George Washington University, Johns Hopkins University and Vanderbilt University, with additional programs set to launch next fall.
"Mr. Clark never forgot that his dream of becoming an engineer was made possible by a generous scholarship; he otherwise would not have been able to attend college," said Joe Del Guercio, President and CEO of the Foundation. "He believed in eliminating financial barriers so promising students could achieve their full potential.
Virginia Tech's efforts to ensure access and affordability are in keeping with Mr. Clark's vision. We are proud to partner with Virginia Tech, a leader in engineering and construction education."
Virginia Tech welcomed its inaugural class of 10 Clark Scholars on August 16 for orientation. Each year, a new cohort of 10 students will enter the program, bringing the total to 40 scholars by 2020.
"We are delighted and humbled by the A. James & Alice B. Clark Foundation's generous contribution to our students," said Virginia Tech Dean of Engineering Julia Ross. "This program will make it possible for dozens of hardworking students to gain access to the opportunities they deserve, and is a great way to honor Mr. Clark's legacy."
Ezekiel Volk is a freshman in the Myers-Lawson School of Construction from Hampton, Virginia, and is a member of the inaugural class.
"Virginia Tech was my dream school since I was a little kid, but as I applied for college I did not know how I was going to afford it. This opportunity came along perfectly because I lost hope," Volk said. "The way Mr. Clark gave back to me — hopefully, one day, I'll have the opportunity to do the same for other students."
The Clark Scholars Program was first introduced at The George Washington University in January 2011. To date, the program has supported more than 100 Clark Scholars across all four campuses.
"The Clark Scholars program allowed me to pursue my education without worrying about financial constraints that are common for students," said Elias Andrew, software engineer at SalesforceIQ and an alumnus of the George Washington University Clark Scholar Program. "Because of the scholarship, I was able to take unpaid internships, spend more time studying, and invest myself in extra-curricular activities. I am honored to be part of this community and am inspired by Mr. Clark's vision of the importance of education and his willingness to invest his own money in helping students achieve things that would otherwise have been impossible."
About the Foundation
The A. James & Alice B. Clark Foundation seeks out grantees who build practical, immediate and concrete connections between effort and opportunity — from scholarships for engineering students to better schools for D.C.'s children to veteran reintegration programs and the D.C. community. As part of its commitment to building the pipeline of future engineers, the Foundation has partnered with some of the nation's leading engineering institutions through its signature Clark Scholars Program, financially supporting students who exhibit strong academic and leadership potential.
###