Newcomer Network: Help that Empowers and Hope that Lasts
Learn More About our Legacy Investments in 2021
For almost 30 years, the Clark Charitable Foundation (as the A. James & Alice B. Clark Foundation was previously known) worked to build strong, lasting philanthropic relationships with nonprofit organizations across DC and Maryland. These relationships have proven to us that trust-based philanthropy is vital to strengthening our communities and addressing their needs. Our legacy investments are multi-year commitments aimed at helping grantees build the capacity and sustainability that will help them continue to thrive after the sunset of Foundation.
With this mission in mind, we have continued to invest in organizations that represent Mr. Clark's philanthropic values and improve the lives of DC and Maryland residents:
We invested in WETA's capital campaign to support the continued growth of the region's flagship public television and radio station. In honor of former A. James & Alice B. Clark Foundation Board Director and longtime colleague and friend of Mr. Clark, the investment will include the naming of The Lawrence C. Nussdorf Studio.
Our work in Easton, Maryland, the longtime home of Mr. Clark, is a key example of the Clark foundational purpose of enriching local communities. Since 2016, we have invested almost $10 million in organizations on the Eastern Shore—most recently, a new investment in Building African American Minds to support the construction of their new academic center.
Additionally, we invested in the growth plan and long-term sustainability of Washington Jesuit Academy, a tuition-free, academically demanding academy for boys in Washington, DC. Over the past five years, we have invested a total of $13.5 million in scholarships, general operations, and capacity-building at high-quality, independent faith-based schools that offer DC students exceptional learning opportunities.
Amelia* and her two children came to America seeking asylum. Life in her native Honduras had become unbearable, and America meant more to her than just a better job or even better pay—it symbolized a better future.
When she arrived in the Washington, DC region, she soon learned she would not have to establish a new life alone. She became the very first client of Catholic Charities' Newcomer Network, which helps immigrants in the region become more stable, empowered, and connected to their communities.
The Newcomer Network addresses the specific needs of the immigrant community, with a focus on Montgomery and Prince George's counties, where 40% of the immigrants in the region live. Through holistic case management provided by a "Navigator"—the Newcomer Network's term for a case manager—the Network delivers everything from legal services to helping immigrants find and furnish a new home. All of this is provided for free to people who are often fleeing difficult circumstances, who speak little or no English, and have very little in the way of financial resources. Navigators work with clients for an average of four months, helping them both to navigate services within Catholic Charities and secure various social services and resources available in the region. The Network recently established its headquarters in the heart of Silver Spring, Maryland, where many immigrants live and work.
"Our mission is to give help that empowers and hope that lasts," said Sister Sharlet Ann Wagner, the Newcomer Network's Executive Director, in an interview on the Charities at Work podcast. "Ultimately, we're helping immigrants connect to and build stable lives in their new communities."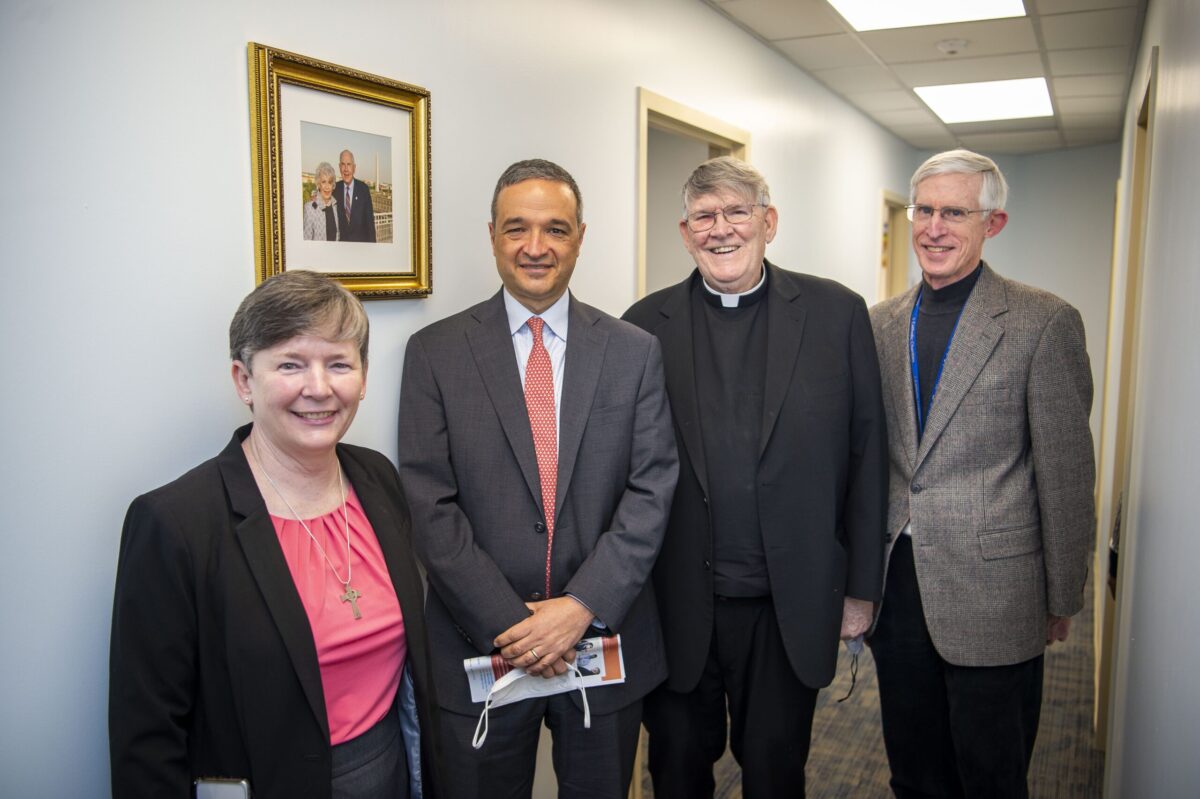 New Arrivals
Though founded in 2020, the Newcomer Network was years in the making and has quickly established itself as a key resource in the immigrant community.
In 2018, Catholic Charities had determined it wanted to serve the community more deeply and the Foundation challenged it to expand its horizons and find the program that would allow them to have the greatest impact. The Foundation then supported a six-month engagement between Catholic Charities and The Bridgespan Group—a social impact consultant and advisor that helps nonprofits and charities see and invest in what would make the biggest difference.
"We started working with Catholic Charities in early 2019," said Lauren Hult, a Partner at Bridgespan, who helped Catholic Charities hone in on areas in which the organization could better reach the people it serves.
"They asked us to help identify an opportunity to 'do something big,'" Hult said. "We wanted to identify what they could do that would have an impact in the community that would really take unique advantage of their strengths. "
Bridgespan and Catholic Charities developed and vetted several options over their time together, frequently sharing their findings with the Foundation. When it became clear how uniquely positioned Catholic Charities was to support the immigrant community, the Newcomer Network rose above the rest. From there, Bridgespan consulted with key stakeholders to help Catholic Charities define the strategy behind the Newcomer Network, including national immigration experts, DC service providers and potential partners, best-in-class immigrant serving nonprofits, Catholic Charities staff, and more. In 2020, the Foundation stepped forward with a multiyear seed investment of $17.5 million to launch the program.
Today, the Newcomer Network is well into a seven-year plan to help create a better life for thousands of immigrants in the area.
Catholic Charities and Bridgespan estimate that over the seven years, 25,000 immigrants will utilize free legal services; 3,000 of those will receive additional services ranging from housing and social services to health care; and 5,000 immigrant families will be served through the program's robust network of partner parishes which reach immigrants where they live.
Sanctuary
While the Newcomer Network serves the community at large, its impact is felt on a personal level. There are some 1.4 million immigrants in the DC region—a remarkable 23% of the entire metropolitan population. Many of these immigrants face economic, legal, and financial challenges. In addition, many of them, like Amelia and her children, bear the scars of psychological trauma, and many others have mental health issues.
All are welcomed with open arms by the Newcomer Network, and Amelia's and her children's fortunes improved markedly thanks to Catholic Charities. Her priority was legal representation, so Catholic Charities' pro bono legal team helped cement Amelia's asylum status with federal immigration authorities.
When it became apparent that Amelia and her children were living in a single room in a shared, overcrowded apartment, her Navigator raised funds to cover the security deposit on an apartment in Prince George's County and helped negotiate an acceptable rent. Donated furniture was secured in nearby Silver Spring and not long after, a driver's license followed—a must-have for any gainfully employed parent in the DC region. Catholic Charities also helped Amelia enroll the family in Maryland Health Connection and helped her access a local health care center for her children when they got sick.
"Amelia is a strong woman and a role model mother," said Jenny Cachaya, Navigator Manager for the Newcomer Network. "She is dedicated to her children. All of her efforts are driven by her desire to provide them with the life that she was not able to have in her home country so they can thrive together as a family in the U.S."
*Amelia's name has been changed to maintain confidentiality.
Visit Grantee Site